Dino Polska S.A. in the first three quarters of 2018: sales are up 32% with 177 new stores yoy, significant growth in customer numbers
Friday, 09 November, 2018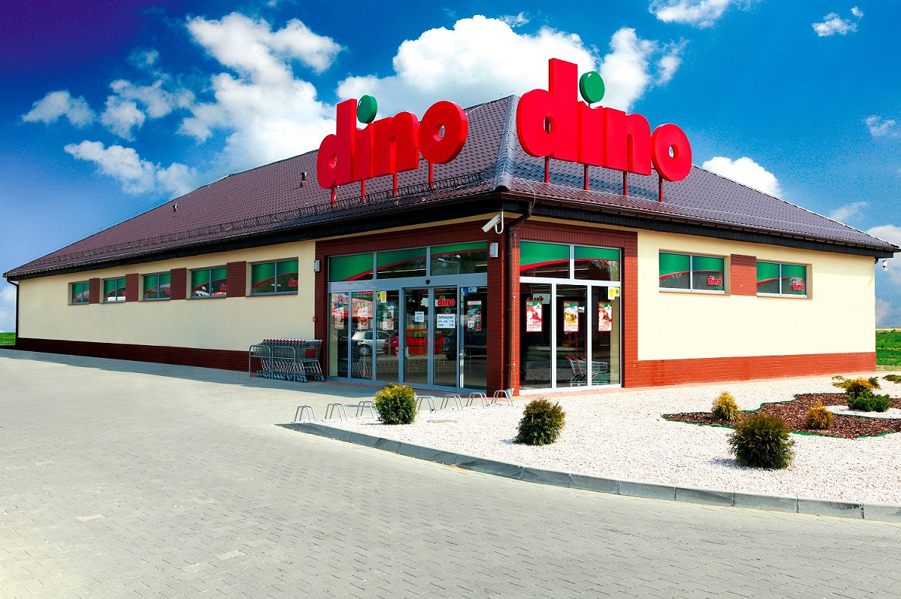 Dino Polska S.A., a Polish network of stores that is one of the fastest growing networks on the overall retail grocery market in Poland, posts further growth in its business size and profitability improvement in the period from January to September 2018. In the first three quarters of 2018 Dino Polska's consolidated revenue reached PLN 4.3 billion, i.e. it was up by PLN 1.0 billion (+32%) over last year. LfL sales growth in this period was +12.4% yoy. At the same time, the Group continues its gradual profitability growth. The EBITDA margin in the first three quarters of 2018 was 8.7%, i.e. it was 0.2 percentage points above the corresponding period of 2017. Net profit shot up 48.4% to PLN 208.7 million. In the same period, the Group invested PLN 466 million in ongoing store rollout.
In Q3 2018 alone the Dino Group generated 28% growth in revenue, thereby bringing it up to PLN 1.56 billion.

Significant top line improvement is the outcome of Dino's ongoing rapid store network roll-out and high revenue growth in the current store network (like for like, LfL). LfL sales growth in the first 9 months of this year was 12.4%.

"Despite the Sunday trading ban, we see growth in the number of purchases made in Dino stores (using LfL as the base) in the first 3 quarters of this year versus the comparable period of 2017. Moreover, we have posted substantial growth in the average ticket value", says Szymon Piduch, President of the Management Board of Dino Polska.

During the first three quarters of this year, the Dino store network was visited by 28 percent more customers per day on average than in 2017 (taking into account all stores, including those rolled out in 2018).

"Clients have responded positively to the Dino stores opened in their neighborhood. We are confident that this stems from the attractiveness of our store format. It is aligned to the evolving trends and needs of Poles: it enables them to do their shopping quickly and in comfortable conditions at good prices close to their places of residence. It also offers a wide selection of fresh products", says Szymon Piduch, President of the Management Board od Dino Polska S.A. "Moreover, we pursue a highly proactive approach to retail sales. Every day we strive to surprise our clients positively by offering them new products and attractive promotions", adds Szymon Piduch.

Dino Polska continues its rapid network rollout by opening new stores in regions where it has a footprint (chiefly western and central Poland) while gradually emerging in new regions.

During the first three quarters of 2018 the Group opened 120 new stores (versus 90 in the same period last year), which means that at the end of September 2018 the Dino network numbered 895 stores (177 more stores compared to the corresponding period of last year).

In accordance with its strategy, Dino Polska will exceed 1,200 stores in 2020 and intends to continue its rapid expansion in the following years. The Group estimates that the total value of its investments in 2018 will be PLN 600-650 million. In the first 9 months of 2018 its capital expenditures were PLN 466 million.

"We are continuing to grow rapidly as demonstrated by our financial results and the higher number of newly-opened stores. We are investing our profits in the ongoing expansion. We are expanding and modernizing our logistics function. We will soon open a new distribution center in Lower Silesia. We are ratcheting up the density of the Dino store network in western, central and northern Poland; we are also gradually emerging in new regions. We are observing positive market trends that are conducive to our stores. This year we want to open more stores than last year and continue to execute our rapid organic growth strategy", says Szymon Piduch, President of the Management Board of Dino Polska S.A.

Market environment

The growing retail grocery market in Poland and the favorable macroeconomic environment are conducive to the further expansion of the Dino network.

The attractive labor market and growing income enhancing Poles' purchasing power are acting as a boost to the overall sector and Dino's segment – as a Polish network consisting of mid-sized supermarkets located close to where people live.
 
"The retail grocery sector in Poland has been highly competitive for years. However, we are positive that it continues to offer substantial growth opportunities which we will be sure to tap into with our efforts", recaps Szymon Piduch.

The European Commission is forecasting growth in the Polish economy at the level of 4.6% in 2018 and 3.7% in 2019. The Commission's report suggests that private consumption will continue to be the major driver of growth.




tagi: Dino Polska S.A.,